Find Singing lessons in Bristol
Want to Learn to Sing? Try Singing Lessons in Bristol!
Do you sing? Would you like to learn to sing? Why not take singing lessons in Bristol with one of our expert tutors! All our tutors have a wealth of knowledge in teaching, experience in providing professional singing lessons as well as being professional performers. In your singing lessons in Bristol, they can help you personalise your own unique musical journey, with great singing technique to support you along the way. Our tutors cover all genres from rock and pop to classical, jazz and musical theatre in their singing lessons - there's never been a better time to take singing lessons in Bristol!
Singing Lessons in Bristol with Professional, Trusted Singing Teachers
Singing lessons in Bristol can be a minefield. But at MusicTutors, we are industry leaders in regards to safeguarding and child protection. All of our singing tutors hold the enhanced DBS certificate and share our vision for a regulated singing tuition platform. We offer peace of mind, knowing that your singing lessons in Bristol are of high quality as well as being as safe as possible.
Singing Lessons in Bristol are Good for You!
Bristol is a busy, bustling place, full of life, but can also cause stress! It has been proven that singing lessons have enormous benefits for both physical and mental health. The act of singing can be therapeutic, release endorphins, as well as being a great stress reliever. Singing lessons can also be an amazing way of socialising and meeting new people, not to mention improving your singing! Take singing lessons in Bristol today and get 50% off your first lesson.
Singing Lessons in Bristol Not for You?
We don't just offer amazing singing lessons in Bristol, we offer them all over the country too! Check out our singing teachers in some of our biggest locations:
Other Lessons in Bristol
MusicTutors offer music lessons in a wide range of instruments.
Why not have a look at some of the other instrument lessons we offer:
Our Customers Love MusicTutors
"Great service and experienced instructors!!"
5 out of 5
Despina Sotireli - Student at Musictutors.co.uk
FAQ
How Do I Get Started?
Simply choose your favourite teacher and send them a direct message by pressing the blue button on the right hand side of their profile! Then you and your tutor can chat to arrange the date, time and location for your first lesson.


How Do I Pay?
Once you have agreed on the details of your first lesson, your tutor will create a booking on the site. Payment can then be made via the platform. This is as simple as buying anything else online. You have the option of buying one lesson or buying a flexible block of lessons where you can receive up to 10% off.


Why Do Prices Vary?
At MusicTutors.co.uk we let our tutors set their prices depending on their own experience, demand and location. With our advice, tutors choose an appropriate price from 8 set prices. A lower price is not necessarily a sign of a lower quality teacher.


Lesson Types
Musictutors.co.uk only currently offers 1:1 lessons , but keep an eye on the website as we are planning to expand to group, and online lessons.


Can I Borrow an Instrument?
We do not offer an instrument rental service. However, our tutors can often advise you on this - so don't hesitate to ask your tutor for help finding the right rental service.


Lessons for All Levels
Our tutors offer lessons at all levels - from beginners to advanced players. If you have specific requests such as GCSE/ A-Level tutoring, or preparation for a University audition, let us know and we can help you find the right tutor!


Lessons for Children
All of our tutors are high-quality professionals, holding either a music degree or years of relevant experience. In addition, we require that all of our tutors hold the Enhanced DBS certificate. So we can promise that your child's lesson with one of our tutors will be high quality and safe.
If you have any questions about age and teaching approaches, you can contact the teacher directly or get in touch with our office team about finding the right tutor for your child.


Lessons for Mature Students
Are you looking to rekindle your old love of music after a long hiatus? Or looking to finally start something you've wanted to do your whole life? Our tutors are well equipped with stimulating lesson content for mature students as well as children, and will do all they can to make you feel comfortable and to personalise the experience for you!
Singing Lessons are Important!
Singing is simply an essential part of the human experience and professional singing lessons refelct this: Singing was the beginning of all music and is still a central tenet of music making in the 21st Century. From the original folk and religious songs, to opera, jazz and contemporary music, the art of song and singing will continue for as long as we exist. Singing connects with people on many different levels - not only do we connect with the melody of a vocal line, but the words and the primal human connection of the voice draw us in. The vocal part of a song is what most casual listeners remember - rather than the bass line or the guitar part. Taking professional singing lessons in Bristol with one of our expert Bristol tutors will help to connect you with this incredible cultural lineage!
Types of Voice Explored in Singing Lessons
In your singing lessons in Bristol, you will discover there are different categories of voice, divided by vocal range. Your vocal range is natural and can change over time, especially for younger children and teens. Knowing your voice type is important first step when you learn to sing. You could damage your voice by singing repertoire that just doesn't fit your natural vocal range/type and this is just one reason we recommend taking profesisonal singing lessons in Bristol. There's a common misconception that if you can't sing in a certain range, it means you're not a good singer, but that couldn't be further from the truth! Take just one singing lesson with a professional singing teacher and you will discover that everyone has a slightly different comfortable range and it's not about how high or low you can sing, it's what you can do with what you've got! It's amazing what you can learn and accomplish in just one singing lesson!
There are six vocal types covered in your singing lessons in Bristol:
Female:
Soprano: the typical soprano singer lies between C4 and C6.
Mezzo Soprano: the typical range of this singer is between A3 and A5.
Alto: the typical alto singing range lies between F3 to F5.
Male:
Tenor: tenor singers typically have a comfortable range that lies between C3 to C5.
Baritone: the typical baritone singer's range is from A2 to A4.
Bass: the bass singer has the lowest singing range and typically lies between E2 to E4.
Explore Correct Posture in Your Singing Lessons in Bristol
The voice is a unique instrument as we are all born with the ability to sing. So you don't need to purchase a physical instrument, but we do need to learn to use our vocal cords in our singing lessons - without being able to see or look at them! When learning other instruments, it's important to pay attention to posture in order to achieve a fantastic sound and avoid injury. When learning to sing in singing lessons however, it is the top priority. Without correct posture, your air flow is limited, your muscles are used incorrectly and the strength of sound acheivable becomes less. In just a few singing lessons, you will learn so much about your anatomy and the muscles involved in learning to sing, you will have a whole new appreciation of the human body and what it can do! Take singing lessons in Bristol with Music Tutors now and get 50% off your first lesson.
It's best to have a professional singing teacher to advise you on posture as you learn to sing but here are a few tips to get you started ahead of your singing lessons:
When you learn to sing, your chin should be about parallel to the floor, not tilted down or raised.
Your shoulders should be held back and down, with your chest held high. A good way to reach this position is to stand straight and reach your arms straight as far up as you can. Then gently lower them to your sides. Concentrate on what your shoulders feel like when they land, and try to keep that position. In your singing lessons, ask your singing teacher to help you with some exercises to develop this important step. As you learn to sing, this is perhaps the most crucial part of developing technique.
Your abdomen should feel flat and firm.
Your hands should be relaxed and still, at your sides or in a comfortable position. Get this right in your singing lessons and take away the feeling of a relaxed hand position for practice at home.
Your knees should be flexibly loose, and never locked.IN your singing lessons, try locking them first and then relaxing them to get the perfect singing position.
When singing, either in your singing lessons or elsewhere, your feet should be about shoulder width apart, solidly planted on the floor.
Your whole body should feel engaged and strong when as you learn to sing - if somebody nudged you in your singing lessons, they shouldn't be able to move you or push you over.
Breathing in Your Singing Lessons
When you're learning to sing, breathing is a huge part of producing a good sound. So learning to breathe properly is very important. A good breath control exercise to practise in your singing lessons is a "count-out". Breathe in deeply and slowly through your nose, as far as you can. Then start to count out-loud at a steady pace while slowly letting out your breath, controlling your breath as much as possible. Whilst you're learning to sing the aim is to reach the highest number you can in your singing lessons. This helps with controlling breath to produce different articulations and being able to make it through longer phrases without breathing. Try and do this every day as well as in your singing lessons in Bristol and you'll soon see an improvement in your breathing as you learn to sing.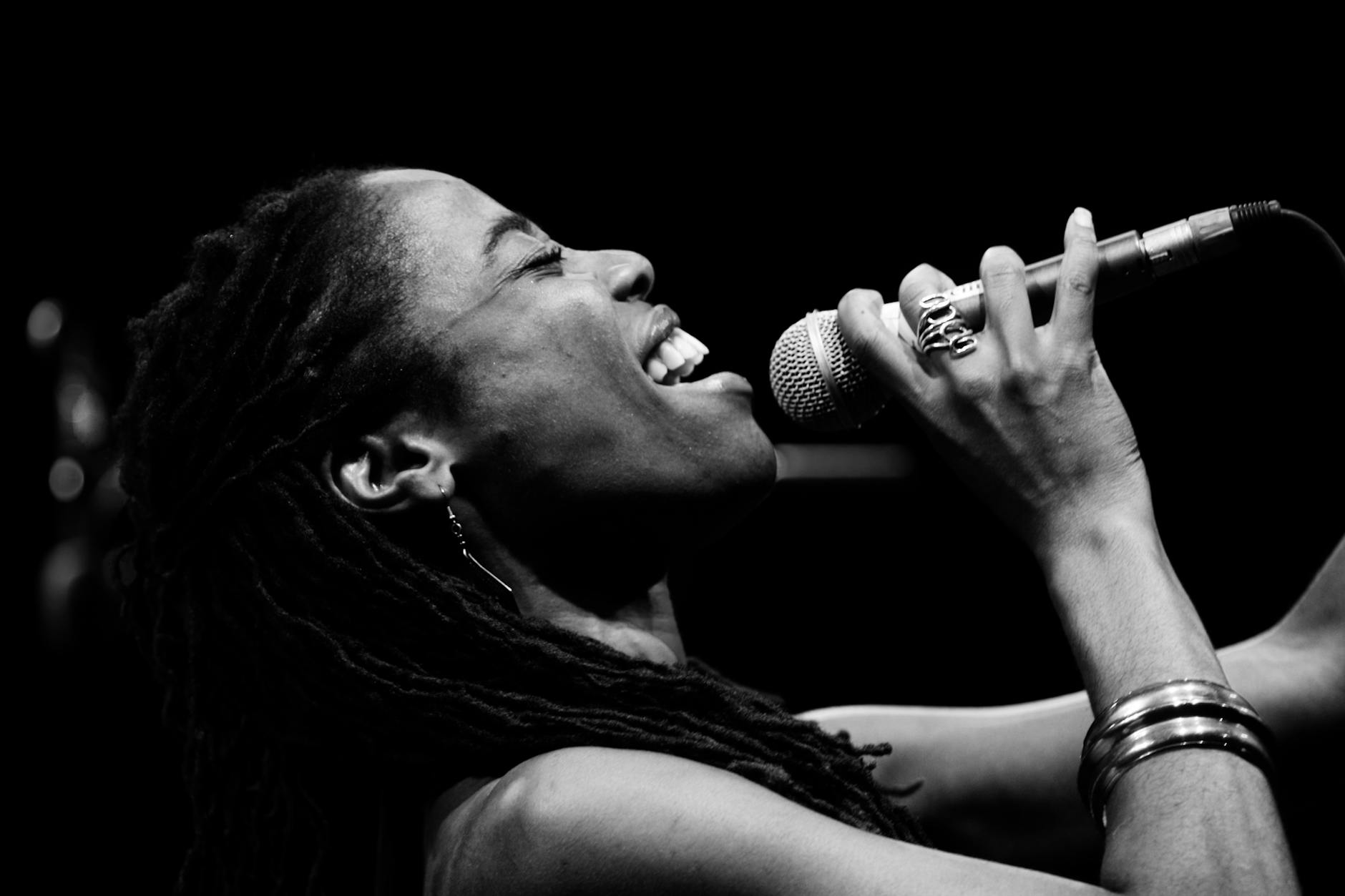 Patience and Practice in Singing Lessons in Bristol
When you're learning to sing, practice is as important as it is for any aspiring musician - it's how we improve and see progress. At the start of your musical journey, during your first singing lessons for example, it's important to set reasonable goals and to practice little and often. Although this applies to all instruments, as you learn to sing vocalists should take this into extra consideration. Whilst you're in the early stages of your singing lessons, you'll still be working on proper technique, and it's important not to get too excited and sing for hours at a time right away - you might not be able to spot a mistake you're making with your technique and you could damage your vocal cords as you learn to sing. Make sure you use a variety of methods of recording the exercises and techniques from your singing lessons and try practicing for 20 minutes a day at first, and when you're more confident you can increase this to half an hour, then 45 minutes and eventually, an hour a day. Focussed practice is also important - we recommend taking some notes in your singing lessons so you can remember what you need to focus on. Singing Teachers will often recommend exercises or sections to practice in your singing lessons, so maybe you can try to get through a couple of those in each practice session. Be patient - when you start to learn to sing you may be told to only focus on one tiny section of a piece to begin with, but eventually you'll learn to sing the whole thing confidently, and it will be so worth all the hard work!
Looking After Your Voice in Your Singing Lessons in Bristol and Beyond
Learning to Sing and maintaining the voice is just like maintaining a physical instrument like a guitar or violin; we have to make sure we keep our vocal cords healthy both in our singing lessons and at home or on the stage! Vocalists have to be extra careful as factors like lifestyle and diet can have a prolonged effect on vocal health. Here are some useful tips our singing teachers have shared with us which you should bear in mind as you start your singing lessons in Bristol:
Stay hydrated: drink plenty of water throughout the day, every day and especially before singing lessons! For your vocal cords to be hydrated, your whole body has to be hydrated. While most singers will have a bottle of water on the stage with them, this is more of a comfort blanket than anything else - if you're dehydrated when you step onto the stage, it's already too late! Adult students who learn to sing should also consider limiting their intake of alcohol and caffeine as both of these work to dehydrate you. This is especially true on the day of a performance or on the scheduled day of your singing lessons in Bristol.
Don't smoke: it's known to damage your lungs and can be the cause of serious issues like bronchitis. Even second-hand smoke could have negative effects on your voice. It's the worst thing you could do when you learn to sing.
Rest: make sure you're getting enough sleep and not over-working yourself as you learn to sing.
Avoid too much dairy: consuming too much dairy can cause a build up of phlegm in your throat, and makes singing and singing lessons more difficult.
Steam: steaming can be really helpful to hydrate and sooth your voice - simply pour some boiling water in a bowl, place a towel over your head and inhale the steam from the bowl. You can also buy machines that are specially made for this exact purpose. Make sure not to drink a cold drink straight after steaming - this can actually damage your voice as it shocks and tenses the muscles.
Your singing teacher will know what to look out for if you had any issues with your voice, and should refer you to a GP if they think you have any damage or illness which becomes apparent as you learn to sing.
If you would like to know more about vocal health as you learn to sing, The British Voice Association is a fantastic organisation offering support to musicians and professional vocalists.
Learn to Sing Songs in your Singing Lessons
We almost never see singers performing from sheet music - it's good practice in all genres to learn to sing your songs off by heart. But learning songs is a difficult process - you have to remember not only the words and melody, but your singing technique, rhythm, posture, articulation, dynamics etc. The goal is to be able to learn to sing the piece without sheet music, off by heart, perfectly - but this takes work! In your singing lessons, your tutor will recommend you learn to sing the song by breaking down each element and focusing on them individually in your practice sessions. For example, you can learn to sing the words out of context by saying each phrase over and over, or writing them down a few times. Similarly, it might help you to create a visual prompt sheet including bits of technique, direction and dynamics. Or you could learn to sing by practicing the melody on its own - try to learn to sing it on an open vowel sound around the house to see how far you can get without any sheet music. Another great way to memorise a song is to listen to it! It seems obvious but is often a forgotten technique. Directly after your singing lessons, put the song on your headphones on a bus or play it while you're doing the washing up - you will learn to sing it even if you're not focussing on it, it really helps to embed the song in your mind! Explore methods of learning pieces with one of our expert singing lessons in Bristol.
Keep Your Singing Lessons Fun
Of course there are so many complexities involved when you learn to sing, and so many hurdles and difficulties to overcome. But it's important to keep sight of what made you want to learn to sing in the first place, and to simply have fun! There will always be parts of learning in your singing lessons that are difficult and might start to feel annoying, but remember what your goal is and make sure to keep singing songs that make you excited! A good way to keep things fun aside from your singing lessons is to join a local choir or ensemble - this adds a social element as you learn to sing and also allows you to forget about whatever challenge you're facing at the moment and sing something completely different, that's just for fun! This can also greatly improve your skills - as when you learn to sing with others it demands super accurate timing and intonation!
Bristol, a City Full of Music and Culture
Bristol is widely known as one of the biggest and most vibrant cities in the UK. Built on a beautiful scenic harbour, Bristol is home to a wide spectrum of music, arts and culture. Famous musicians from Bristol include Massive Attack, Portishead, and Britains got Talent winner Paul Potts. Bristol is also home to a world-class University and the mysterious Banksy.
Bristol has an eclectic range of venues hosting touring bands, classical and jazz concerts, and much more. Colston Hall and Trinity Centre regularly host jazz, classical, and world music concerts, as well as rock, pop and theatre shows. O2 Academy Bristol is one of the biggest venues the city has to offer - this is where you can see bigger touring bands and experience weekly club nights. Thekla is a converted boat, and is a great place to see smaller acts. The Louisiana is also a great place to see upcoming talent.
As well as plenty of amazing gigs in Bristol, there are plenty of opportunities to get involved in playing live music. The Riff Raff Choir and The Eastern Community Choir regularly rehearse and perform in Bristol. For instrumentalists, Bristol Chamber Orchestra is a great ensemble to join.
If you're looking to buy your first musical instrument, here are a couple of options for places to start. PMT Bristol has an amazing selection of guitars, bass guitars, drums and keyboards and music technology equipment. For those interested in buying orchestral instruments or pianos, Mickleburgh Musical Instruments is the place to go.
Any Questions About Singing Lessons in Bristol?
At MusicTutors, we love helping connect students with their perfect tutor. If you have any questions about singing lessons in Bristol, call us on 07946125613 or send an email [email protected]. The office team are all professional musicians and educators and we love giving great service. We look forward to hearing from you!
Do You Want to Be a Music Tutor at MusicTutors.co.uk?
We are always looking for talented music tutors all over the UK. Think you're the right person for the job?
Apply here!