Find lessons in Trumpet at MusicTeachers.co.uk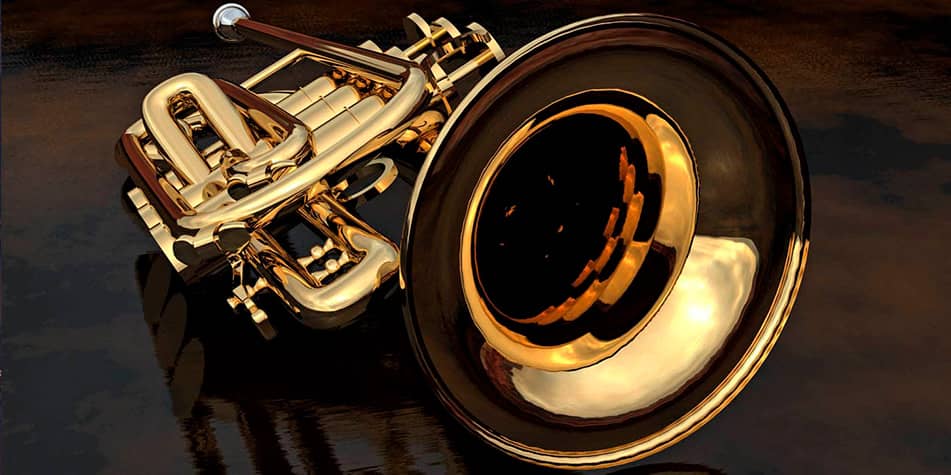 Receive Trumpet Lessons with MusicTutors!
Do you want to learn to play the Trumpet? Whether you're an absolute beginner or an experienced player, our teachers are here to help you enhance your skills. All of our teachers are highly professional and experienced players who will help you reach your goals. Not only will you get the most out of your trumpet lessons, but you will also get better - no matter your current level or age. We offer trumpet lessons for everyone!
Trumpet lessons will typically include some of the following elements:
Breathing exercises
Instrumental exercises
Reading sheet music
Relevant music theory
Much, much more depending on your level and needs!
Professional, Trusted Trumpet Tutors
We ensure that all of our Trumpet tutors have an Enhanced DBS Certificate. We pride ourselves on our industry-leading Safeguarding and Child Protection policies and make sure that all trumpet teachers share this same level of commitment. See the profiles of our trumpet teachers above. Only the sky is the limit when it comes to tailoring your own personal music course that matches your ambitions and needs.
Why take Trumpet Lessons?
The Trumpet is a brass instrument used in all kinds of music all over the world, though, the most popular genres in which they are used are jazz and classical music. Playing any instrument will help with relieving stress and getting the creative centres in the brain going but furthermore, playing the trumpet will also improve your breathing and help strengthen your core muscles. Most importantly, of course, using the trumpet you can create beautiful melodies and phrases. Once you get the hang of it, you'll be playing all day long.
Do I need my own Trumpet?
It is always a good idea to have your own instrument so you have the opportunity to practice between trumpet lessons and in the end, you will get better results. If you need help buying your first trumpet, you can always ask your teacher or us here at MusicTutors for advice. Also, it is always a good idea to go down to your local music shop and try out different trumpets to see which ones you like best. They're probably more than happy to help.
The Trumpet
The trumpet is a brass instrument and has the highest register in the family of brass instruments. It consists of an almost cylindrical, though a bit smaller at the mouth-piece and bigger at the sound-hole, pipe, which is formed, roughly, as a rounded rectangle. The trumpet also has valves which, when pressed, alter the sound. It is played by placing the lips at the mouth-piece and blowing air through the hole. Trumpets have famously been used through history as a signaling device though these do not look or sound like modern trumpets. Today, there are different types of trumpets which vary in shape and size depending on the type of music they are being used for. The most popular by far is the Bb trumpet. Our trumpet teachers teachers know the instrument through and through. Therefore, by getting trumpet lessons you will not only learn to play the trumpet, but you will also learn more about the instrument itself.
Famous Trumpet Players
There are many different trumpet players of many different styles and genres. Whether you've heard the trumpet part on the Beatles' 'All You Need Is Love' or Miles Davis' album Kind of blue, you'll be familiar with the sound of the trumpet. Many famous trumpet players have received trumpet lessons to help them better their playing. Some of them right at the beginning when they were first starting out playing and some right up through their professional trumpet career.
Here are some very famous trumpet players you might want to check out:
Miles Davis
Louis Armstrong
Chet Baker
Gottfried Reiche
Dizzy Gillespie
Sergei Nakariakov
Sir Malcolm Henry Arnold
If you want to get familiar with the sound of the trumpet, here are some famous trumpet songs and pieces:
Trumpet Concerto - Joseph Haydn
Trumpet Concerto - Henri Tomasi
All blues – Miles Davis
But not for me – Chet Baker
C'est si Bon – Louis Armstrong
If you feel inspired by these pieces then surely the trumpet is the instrument for you! With trumpet lessons from our teachers you can get sounding like some of the greats so get contacting one of our trumpet teachers today!
Are you looking for lessions in another instrument?
If you have the courage to try another instrument MusicTutors.co.uk also offer:
Contact?
If you have any unanswered questions MusicTutors.co.uk are always ready to help. We can help find the right teacher or the right course for you. You can contact the office all weekdays between 10:00-16:00 by dialing the number 07946 125613 or by e-mail [email protected]. We are looking forward to hearing from you!
Go to front page