Find Guitar lessons in London
Want to Take Guitar Lessons in London?
Looking for guitar lessons in London? Great choice! The guitar is a well-known instrument that plays a big role in many musical settings. Its versatility makes it part of many genres where it works both in the rhythm section and as a solo instrument. Classical guitarists exploit this versatility especially well - we hear both melody and harmonic accompaniment at the same time. Take guitar lessons in London with one of our expert guitar teachers, and get 50% off the first of your guitar lessons in London.
Take Guitar Lessons in London With MusicTutors
Do you want to start guitar lessons in London? Or maybe you already play and are looking for guitar lessons in London to improve your skills? Why not learn with an experienced, dedicated guitar teacher. All our guitar lessons in Londonare taught by are skilled, professional teachers as well as professional musicians. Taking guitar lessons in Londonwith an expert guitar teacher will ensure that you see your playing progress quickly!
High-Quality Guitar Lessons in London Really Make a Difference!
This is especially true for beginners. When you start guitar lessons in London, having the basics of a solid technique (explained in a fun and engaging way) will save hours and hours of frustration later down the line. All of our guitar teachers have trained to a professional standard and are performing or recording musicians in their own right. However, this isn't enough to make great guitar lessons. We can garuantee that your guitar lessons in London will be taught by guitar teachers who have honed their ability to communicate technical and music theory ideas, concepts and exercises in clear, simple, language. These skills, coupled with great enthusiasm and the determination to personalise the learning experience for each student means that MusicTutors offers some of the best guitar lessons in London. Try it out for yourself! Get in touch with one of our amazing guitar teachers for guitar lessons in London today and we'll send you a voucher for a 50% off the first of your guitar lessons in London.
Professional, Trusted Guitar Lessons in London
We ensure that all of our guitar teachers have an Enhanced DBS Certificate, and they all go through a stringent recruitment process. We pride ourselves on our industry-leading Safeguarding and Child Protection policies and make sure that all guitar teachers share the same level of commitment. Don't wait, learn guitar today - message one of our brilliant guitar teachers and get 50% of the first of your guitar lessons in London.
Guitar Lessons in London Not for You?
MusicTutors offers guitar lessons in almost all locations nationwide!
Have a look at guitar lessons in some of our bigger locations:
Looking for Lessons in Another Instrument?
As well as offering great guitar lessons, MusicTutors also offers lessons in loads of different instruments all across the country. Check out some of the other instrument lessons we offer...
Our Customers Love MusicTutors
"Incredible platform for students and teachers alike! Fantastic, professional and friendly team of people who always help with whatever your query. As a teacher working for them, I couldn't recommend more!!"
5 out of 5
Nick Baya - Music Tutor at Musictutors.co.uk
Choosing the Right Guitar for Your Guitar Lessons in London
Are you thinking of taking guitar lessons in London? Are you on the verge of buying your own guitar? It's important to find a guitar that you love and feel comfortable with. You can try out different types and manufacturers in your local music shop, and it's always worth asking your one of our guitar teachers what they recommend before buying!
Here are some tips from us on what to take into consideration before making your final decision. But remember, the most important thing is that you choose something you're comfortable playing in your guitar lessons in London and in your practise.
Types of Guitar
Your teacher can tell you about this in your guitar lessons in London, but here's a bit of info to start you off. There are three main types of guitar to consider when choosing your guitar. Classical guitar, acoustic guitar and electric guitar. Classical guitars have nylon strings as opposed to metal strings, and are said to be good beginner instruments. Acoustic guitars are a slightly different shape to classical guitars and are setup with steel strings. Electric guitars are usually a very different shape to acoustic/classical guitars, with a much smaller body. These too are setup with metal strings. It's useful to figure out with your guitar teacher what type of guitar you want to learn to play before starting your guitar lessons in London, that way, you can focus in on what kind of styles you want to work with in your guitar lessons. Read more about different types of guitar here...
Classical Guitar

The classical guitar is often recommended before the acoustic as a beginner instrument for your first guitar lessons. It's thought to be easier to play as it has nylon strings and a wider fretboard, making chords easier to play. As mentioned before, classical and acousitc guitars are quite different. As a beginner, there are two significant differences to take into consideration before choosing this for your guitar lessons in London.
The classical guitar has a wider fretboard which can make learning chords a little easier, as there's plenty of room for all your fingers and you can easily see what finger goes where. It also has nylon strings which are much softer than steel strings. This means your fingers are less likely to get sore on your first go! Another advantage to starting on a classical guitar is the nylon strings can make it easier to get a great clean sound sooner. One disadvantage though, is while the wide fretboard can be a great help, it can also be a hinderance - if you have small hands, it might be hard to reach more difficult chords.
Of course, classical guitar is perfect if you're wanting to learn to play classical pieces - hence the name! But if you were working towards pop/rock pieces, it would be worth considering moving on to an acoustic or electric guitar if you're using a classical guitar to begin with.
There's no need to amplify a classical guitar, though you can purchase classical guitars with built-in pickups if needed. Without pick-ups, classical guitars are perfect for small settings like singing songs around a camp fire, in the living room or in small venues.
Acoustic Guitar

The acoustic guitar is equipped with steel strings, which can make it harder on your fingers at first. However, this will pass over time, the more guitar lessons you have. The skin on your fingers will harden and then you won't feel anything! It's a great idea to start building the strength in your fingers from your first guitar lessons in London, which makes the acoustic guitar a good beginner instrument in that respect. Another advantage of an acoustic guitar is that it has a smaller fretboard which can make it easier to reach difficult chords if you have smaller hands. Your guitar teacher will advise on this in your guitar lessons in London.
Another advantage of the acoustic guitar is the added volume. Acoustic guitars are suitable for small venues as well as bigger audiences. They can also be bought with a pickup fitted to them (this is called an electro-acoustic), which can then be put through a PA system for bigger venues.
Acoustic guitars are often associated with folk/country music, singer-songwriter music and pop.
Electric Guitar
The electric guitar is equipped with metal strings, much like the acoustic. However, the strings are finer and the action is lower, making it much easier to play than the acoustic. 'Action' refers to the height of the strings from the fretboard - when it's lower, the strings are easier to press, and when it's higher, more difficuly. The fretboard is also thinner, making navigation more manageable. You might find your guitar lessons progress a little quicker with the electric, in that respect.
The electric guitar doesn't make much sound on its own - you will need to connect it to an amplifier to get the sound you want. It's also important to choose the right amplifier, so make sure to ask advice from your teacher on a good beginner amp. One of the advantages of the electric guitar is also the wide variation of sound you can acheive - there is almost an infinite array of effects pedals to choose from which can make your guitar sound completely different! You can even build a 'pedal board' with your favourite pedals on it so you can quickly switch sounds for different parts of a song. This is something you can learn about in your guitar lessons in London.
Parents Take Note!
There is often some fear around a child wishing to take guitar lessons in London with electric guitar. It is important to remember that your child may have been inspired by listening to or watching their favourite band. This inspiration is gold dust as it provides a steady stream of motivation – even when the going gets tough! For some students, an acoustic or classical guitar simply won't cut it. Modern production of amplifiers also means the sound can be controlled. Many beginner amps also come with headphone jacks, enabling near silent practice!
Pedals, effects pedals and all manner of potential accessories are also be a draw for the electric guitar. It's worth saving some room in your budget for some accessories a little way down the line to keep interest levels high! This is in contrast to the simplicity of a well-made classical or acoustic guitar. If classical/acoustic guitar is the instrument of choice, set the best budget you can and use it on an instrument of quality. Well-made instruments by well known brands will hold value, and selling second-hand will be an option should things not work out as planned. Similarly, when searching for an instrument within your price range, the second hand market (with the help of an expert) is an option worth exploring. Ask your guitar teacher in your guitar lessons in London for advice.
Whichever guitar you choose, it is recommended that you have a professional set-up your guitar before your first guitar lessons. Setting up includes adjusting screws and various elements inside the guitar which can make it more comfortable to play. Get a recommendation from your tutor or a local music shop for the right person to do this for you.
Remember: the most important thing is to find an instrument you are comfortable with since you will be spending many, many hours with it!
FAQ
How Do I Get Started?
Simply choose your favourite teacher and send them a direct message by pressing the blue button on the right hand side of their profile! Then you and your tutor can chat to arrange the date, time and location for your first lesson.


How Do I Pay?
Once you have agreed on the details of your first lesson, your tutor will create a booking on the site. Payment can then be made via the platform. This is as simple as buying anything else online. You have the option of buying one lesson or buying a flexible block of lessons where you can receive up to 10% off.


Why Do Prices Vary?
At MusicTutors.co.uk we let our tutors set their prices depending on their own experience, demand and location. With our advice, tutors choose an appropriate price from 8 set prices. A lower price is not necessarily a sign of a lower quality teacher.


Lesson Types
Musictutors.co.uk only currently offers 1:1 lessons , but keep an eye on the website as we are planning to expand to group, and online lessons.


Can I Borrow an Instrument?
We do not offer an instrument rental service. However, our tutors can often advise you on this - so don't hesitate to ask your tutor for help finding the right rental service.


Lessons for All Levels
Our tutors offer lessons at all levels - from beginners to advanced players. If you have specific requests such as GCSE/ A-Level tutoring, or preparation for a University audition, let us know and we can help you find the right tutor!


Lessons for Children
All of our tutors are high-quality professionals, holding either a music degree or years of relevant experience. In addition, we require that all of our tutors hold the Enhanced DBS certificate. So we can promise that your child's lesson with one of our tutors will be high quality and safe.
If you have any questions about age and teaching approaches, you can contact the teacher directly or get in touch with our office team about finding the right tutor for your child.


Lessons for Mature Students
Are you looking to rekindle your old love of music after a long hiatus? Or looking to finally start something you've wanted to do your whole life? Our tutors are well equipped with stimulating lesson content for mature students as well as children, and will do all they can to make you feel comfortable and to personalise the experience for you!
The Basics of Guitar Playing
Here is some information about the structure of the guitar, chords, different scales and barre chords. These are some of the things you'll cover in your guitar lessons in London.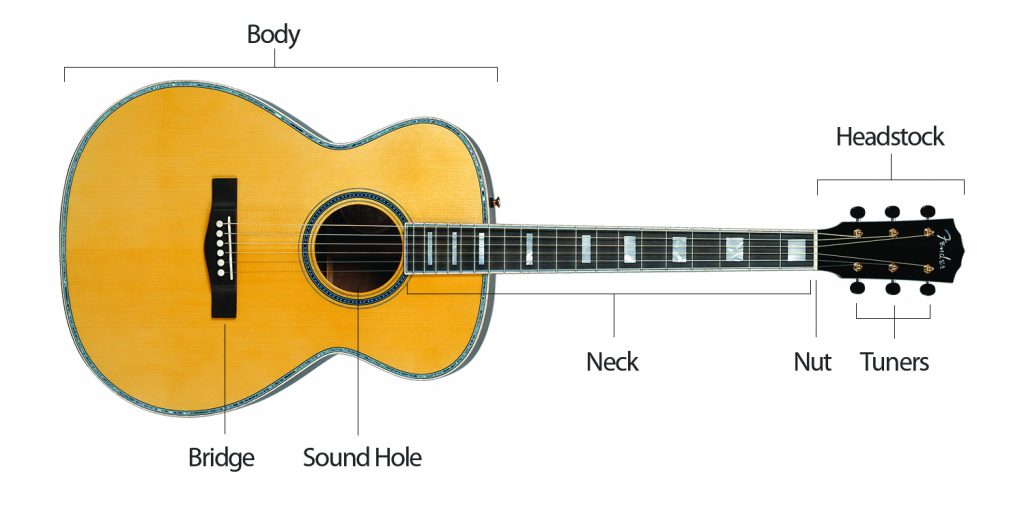 Here is an image displaying the different parts of an acoustic guitar. (These parts all have the same name on an electric guitar too).
The 'frets' are the metal bars that lie across the guitar's fretboard. Pushing down the strings between these changes the tone of the string. This is called fretting. If you are playing a note on the first fret, you should place your finger between the nut and the first fret. From thickest to thinnest (lowest sounding to highest), the strings on a guitar are called E, A, D, G, B and E. You can tune the guitar either by ear (e.g. using a piano and listening for the right notes) or by using a guitar tuner.
For beginners, a tuner is recommended. There are many different types, depending on what suits you: clip-on tuners, tuning pedals, and even smartphone apps. Your guitar teacher can also help you tune your guitar in your first guitar lessons.
You tune the guitar by turning the machine heads. You should always loosen the machine heads so the note is lower than you want and then tighten it till you get the desired note. This way, the tension is on the correct side of the strings.
Reading Chords

Here is an example of some chords you can start to learn as a beginner. Let's look at the A chord. From the chord chart, we see that we have to press down three strings, namely D, G and B and that this should be done on the second fret. Above the low E string (always on the left of the chart) there is an X. TThis X means that the string should not be played. Beneath the A and high E strings we see a O. This means that this string should be left open (meaning not fretted) and played along with the fretted notes. Your guitar teacher can help you rememember this in your guitar lessons in London.
Strumming
When strumming the strings we do it over the guitar's soundhole. The sound in an acoustic guitar is created here, and it sounds most clearly if we strum here.
Guitar Scales
Scales are notes that fit together in a given key. Melodies and solos often use scales as starting points. Here are links to info on some of the commonly used western scales:
Major and Minor Pentatonic Scales
Barre Chords
Barre chords is a term players usually get to know after learning the more basic chords on a guitar. Starting off, many players will hate playing these but once you get to grips with them they will become an essential part of most guitarists playing. Once you know the technique, you will easily be able to play all the most fundamental chords!
The difficult part of this technique is learning to cover all strings with your first finger, well enough that the correct note will sound from each of them. You can then add the appropriate chord shape with your other fingers and you're away! Once you have strengthened your fingers well enough to do this, you can take the chord shapes anywhere up and down the neck and play any chord you need! Practise this outside of your guitar lessons in London to build your strength as quickly as possible!
Advice for Students Starting Guitar Lessons in London
If you're new to taking guitar lessons in London, here is some advice and some tricks which can be helpful along the way.
Practice Daily
Try to make sure that you practice every day if possible - in between your guitar lessons in London. In the beginning, it's recommended that you practice regularly and for shorter periods of time. 10-15 minutes two times a day is usually more beneficial than practicing for one hour, one day a week. Plus your fingers need to build in strength, so it's no use practising for too long and getting sore fingers, then you won't want to play for the rest of the week. Make sure to always have the guitar within reach at home - that way, when you feel motivated, you can pick it up quick while you're in the mood, instead of having to find it and battle it out of a case.
Getting Used to Playing
Your fingertips will harden over time, which will make practising for longer a possibility. The different chord shapes will also become second nature, which will make it easier to move through them to complete a song. This does though take time though and it is wise to be patient - this way you can avoid getting frustrated and hurting yourself.
Train Your Fingers!
Besides the strings being hard on your fingertips, you will probably also notice that you need to build up strength and flexibility in your fingers. As a guitar player you will be putting your fingers through some quite challenging positions, but your fingers will become accustomed to this soon enough.
Getting Comfortable
Some players find it easier to sit, rather than standing. Especially at first - it will be easier to see what your fingers are doing and concentrate on your technique while sitting. Make sure to plant your feet firmly on the ground and make sure the guitar's weight is on your lap. If you feel the guitar sliding down, you can take a lower chair or cross your legs. Another helpful thing to have is a strap - even if you're sitting, it can help to keep your guitar stable.
Take Care of Your Guitar
It's good to have a case or bag for your guitar (hard-case, soft-case, gig-bags or similar). This way you have the possibility to transport it. It is also a good idea to get hold of a guitar stand or wall-hanger so that it's super accessible in your home, plus it's a great feature to show off! This also avoids having to lean it against a wall or furniture, where it might fall over or get damaged.
Always Have a Spare Set of Strings
It is always a good idea to have a spare set of strings in your guitar case. Should one of your strings break on the go, you'll be able to fix it quick!
Nursing Your Motivation
Finally, it's important to keep up your motivation for playing guitar. The best way to do this is to play songs that you like and enjoy playing, plus adding new songs to your pracise regularly. It can also be fun to play these songs along to the original track! Our guitar teachers at MusicTutors.co.uk promise to keep you excited about guitar lessons in London, and help you play the songs you love! Message a tutor today for the first of your guitar lessons in London at half price!
Questions About Guitar Lessons in London?
At MusicTutors, we are always on hand connecting students with their perfect tutor. If you have any questions about guitar lessons in London, call us on 07946125613 or send us an email to [email protected]. The office team are all professional musicians and educators who love giving great service. Get in touch today - we look forward to hearing from you!
Do You Want to Teach Guitar Lessons in London with MusicTutors.co.uk?
We're always looking for talented music tutors all over UK. Please feel free to apply!
Apply here!