Personal presentation video
What are the benefits of making a personal video ad?
We can create ads specifically for your tutor profile
It allows you to express what kind of teacher you are
New students get a clear and positive first impression of you as a tutor
The video can also be uploaded to your teacher profile
Very effective way of building up new students
Your Personal Video as an Ad on Facebook
Tutors who make video ads, paying attention to the checklist below, will be offered the opportunity to create a personal Facebook ad. A personal Facebook ad allows you to introduce yourself as a tutor to a wider group of potential new students in your local area via social media.. We offer new students a half price discount on the first lesson with you, and target your ad to people in your local area who love music. It is a tried and tested way of building a client base quickly.
Preparing your Personal Video
Take the time to read this thoroughly and see what other tutors have done. Set aside time to make the video. It's unusual to get it perfect on the first try - so keep going! It can be an advantage to film two settings: one where you talk about yourself, and one where you play and show what you can do. There are many great free video editing programs where you can then edit the movie before sending it to us
Examples of a good presentation video
Sebastian - Guitar teacher based in London
As you can see, it is perfectly okay to see that the video is homemade. It's just about giving a good and honest impression of you as a tutor. It's perfectly fine to record with your phone - in fact this method can actually add to a feeling of authenticity.
Checklist for the good video
Look right in the camera Eye contact helps to connect with the audience.
Keep the camera still! Keep the camera on a tripod or similar, so the video doesn't shake too much.
Light Make sure there is plenty of light in the room you are recording (natural light is better, but a nice lamp or two is good too.
Tell your story, Briefly tell your story as a musician and tutor - what genre? What's your teaching style?
Location eg "I teach from my home studio in ______, students homes nearby and also online (delete what doesn't apply to you).
Show what you can do It's great to have some footage of you playing or singing!
Duration The video should be a maximum of 45 seconds long
Once you have created the video, just send it to us and we can post it both on YouTube and on our Facebook page, where we will create customized ads targeting people in the areas you teach.
Examples of how the ads look on Facebook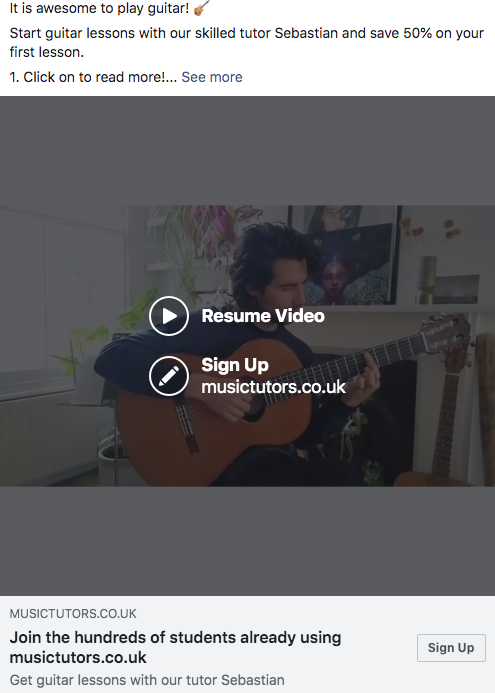 All set? Send us the video here
Send us your video
Who Are We?
The office team of MusicTutors are all professional musicians and educators. We also believe that we have the best job in the world. We get to spend our day talking to students across the country about how much they love music and we have helped hundreds of people connect with the perfect, professional tutor for them. We'd love to help you too! Please get in touch with us and tell us your story. 07946125613 Or send us a mail to [email protected]. We can't wait to hear from you!