Engaging with great music evokes dozens of emotions, from calm to invigorated, joyful to melancholic. While for some that sort of ability comes naturally, it requires great motivation, discipline, commitment and guidance. For that reason, most of us use the help of teachers to guide us.
For those of you who prefer to learn on your own terms, on your own instruments, in your own space we have designed and launched a new online singing lessons program, where your chosen tutor will connect to you through a computer or another portable device and guide you through it as if you were both physically present.
We have a fantastic range of qualified singing tutors for you to choose from today! Search all of our online singing teachers here!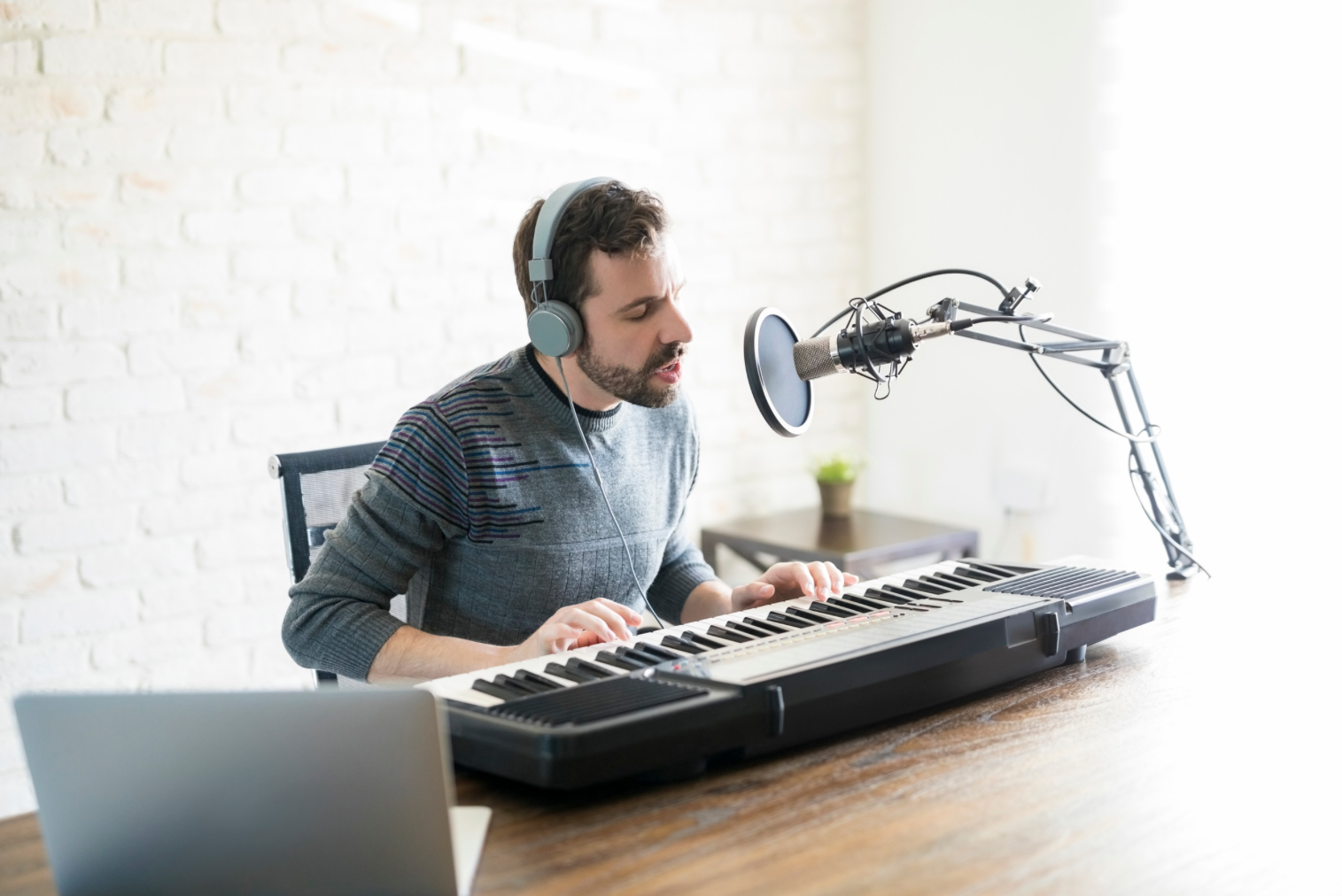 ---
Why choose online singing lessons with MusicTeachers.co.uk?
Learning on your own terms:
The comfort of your own home or studio;
Flexible learning hours;
Save on travelling costs to get to the tutor and back;
You can learn music anywhere – while travelling, moving, and living remotely – you just need to connect with the teacher online through your device.


Feeling comfortable and at ease is essential for gathering focus and 'getting in the zone'. Choosing online singing lessons through MusicTeachers.co.uk will provide you with learning from the comfort of your own home. More importantly, holding singing lessons online will bring you such benefits as flexible learning hours and cost savings from traveling to the tutor. It can get quite complicated to find the perfect singing teacher in a smaller town or rural area due to fewer options, it is also difficult to keep routine tutoring when traveling and managing a busy schedule.
Guaranteed smooth learning process:
A video chatting system guaranteeing efficiency;
One-on-one tutoring;
Individual review of your singing technique;
Option to work with a teacher that can maximise your potential even if it is outside of your travel range;
When conducting lessons through the portal, your privacy, safety and security are guaranteed.


MusicTeachers.co.uk has developed a new online classroom for singing lessons, through which you will be able to connect with your tutor using our video chatting system. This type of learning is a simple way to get one-on-one tutoring, individual review of your singing technique and find the perfect teacher for you, even if they live miles away. Furthermore, our platform guarantees privacy, security and safety during your sessions.
Become the master of your voice:
Teachers will help you with finding the right types of music for your voice;
You will be shown how to maximise the potential and master your own voice;
They will also guide you through your own songs.
When choosing to work with tutors via online singing lessons you are choosing to get inspired by the people who have already mastered the technique. They will help you with finding the right types of music for your voice (as it is easier for a qualified ear to determine whether the pitch is at the right tone), to master your own voice to perfection, and how to sing the pieces written by you the way you hear them in your head (if you're an artist that likes writing).
Need more convincing? Check out some videos made by our singing tutors:
---
Would you like to begin your path to excellence?
Click here to find the instrument of your choice (singing) and your location, after which you should press `search`;
After you have been presented with a list of tutors, you have the chance to check whether they offer lessons online (if they do, an information bar with `online learning` option should be visible on their image);
Click on their profile and send them a message informing them of your interest.
Start learning!
Here's a quick video to help you get started:
Or you can also check the available tutors in some of the larger cities:
Remember, music is best when it's shared. Therefore, let's inspire each other.