Ever wondered who's playing drums for your favourite artist? Or who played violin on that record? The answer is a session musician. These highly skilled musicians are hired to play backing instruments for other bands & artists. Sometimes they're recording in the studio, and sometimes they're on the road touring. We were lucky enough to speak to two seasoned session musicians to ask them what life is really like in this ever-changing role.
How did you start out playing music?
Angela: No one is particularly musical in my family unless karaoke counts! But I've been in love with music for as long as I can remember. I started learning the violin towards the end of primary school. When I was about 16, the orchestra was short of viola players so offered them on loan to anyone who wanted to learn. This is where I started my viola journey.
Magesh: I saw Australian drumming legend Virgil Donati play when I was 14. His performance was so impressive it inspired me to become a musician.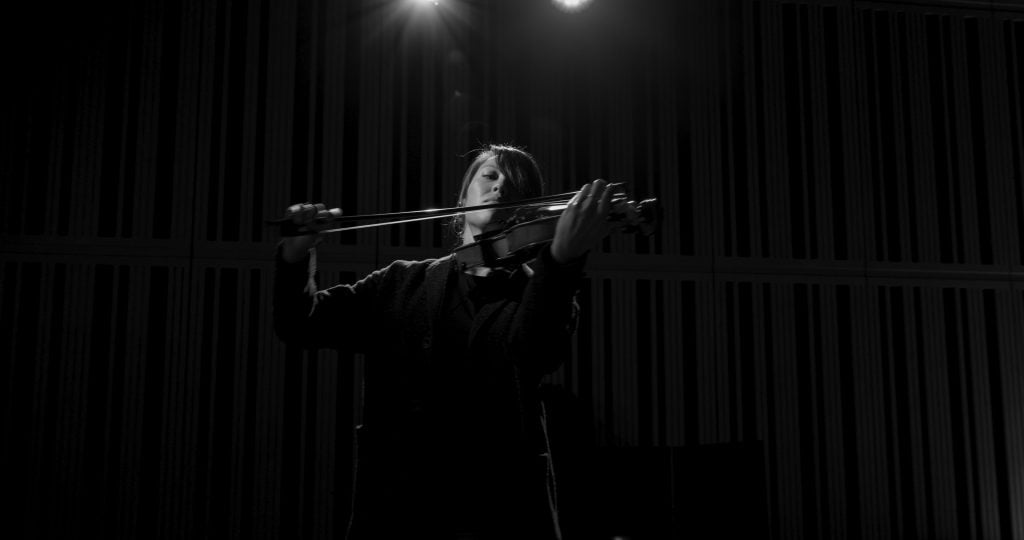 Angela Chan – Ian West 2020 at Sage Gateshead
How did you get into working as a session musician?
Angela: By accident! After my band Tomorrow We Sail started performing and releasing music, I met other bands who wanted to record strings, have some backing strings at a gig or go on tour. It was mostly my friends' bands at first and then the network got wider.
Magesh: Technically it was by accident! As a kid, I listened to all types of music. I always believed if I did a good job playing the drums people would recommend me once they heard me play, which is exactly what happened.
Interested in a music career? Click to read more.
What advice would you give to someone who wants to be a session musician?
Magesh: Don't turn down any opportunities when you're starting out! Not all gigs are glamorous but you have the chance to learn something at every gig you do. Even if you learn what not to do!
Angela: Listen to lots of music, hear how your instrument is used in different eras, genres and how they sound. And find opportunities to be around other musicians and play in different environments – jam sessions, open mics, workshops, online etc. It's all a good experience, fun to make new contacts, and usually safe places to test out ideas and learn new tricks.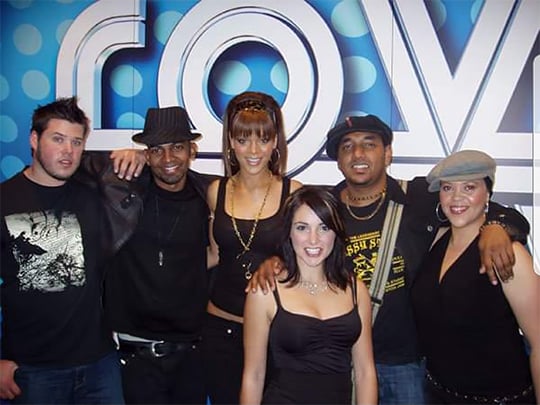 Magesh pictured with Rihanna after performing with her band at Rove Live
What's the most important non-musical quality to have as a session musician?
Magesh: Being nice! People are much more likely to hire someone who brings positivity to any job. And don't gossip about other musicians – leave your ego at the door.
Angela: Reliability and good people skills. I think the session world is quite reliant on word-of-mouth recommendations. If you develop a bad reputation, you're unlikely to get more work no matter how well you can play.
What do you love most about your work?
Angela: I really like touring and travelling. Seeing landscapes change, and experiencing new cultures, sights, smells and sounds is really exciting. Experiences like these feed back into the creative side of my work, sparking ideas that get turned into records, which we then get to tour. It's the cycle that keeps on giving.
Magesh: Session music gave me the opportunity to play in different styles and tour all over the world, which I loved. Now I teach drums online and I love teaching people how to play. There is just something cool about playing the drums that bring people together.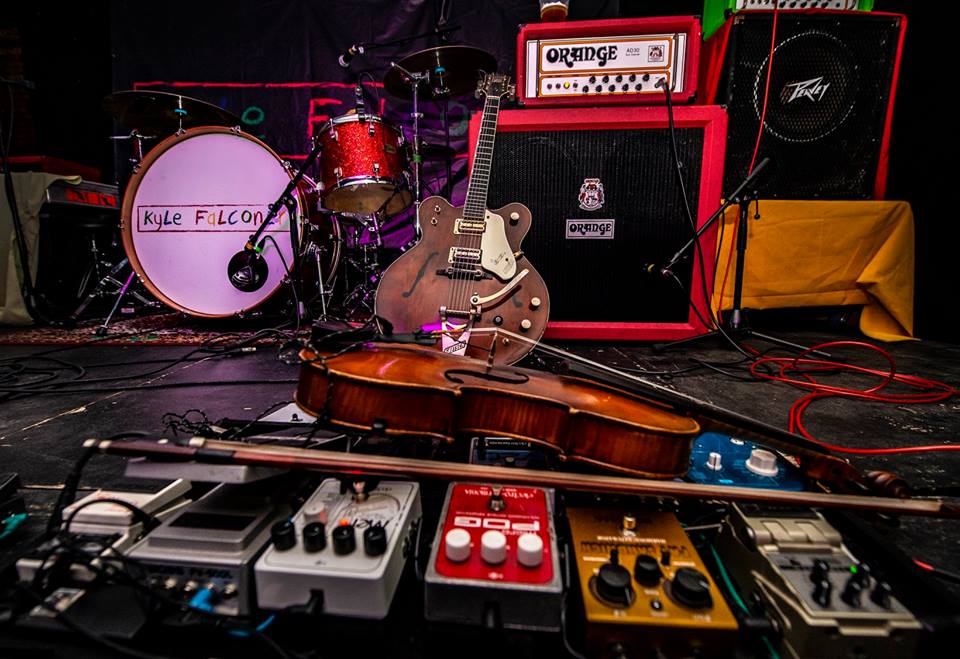 Angela's viola and pedal board – Gary Prior 2018
Any crazy experiences?
Angela: Lots of crazy experiences! When I played in Slamboree, we once had an entire Jungle Gym building for a dressing room, complete with ball pits, slides, tunnels - the lot. Probably the most fun I've had getting ready for a gig and post-show wind-down. There were a lot of spilt drinks though. There's probably still glitter in the ball pit too. Sorry.
Magesh: I did some shows with the drummer who worked with Prince named John Blackwell. Prince ranked him as one of the greatest drummers of all time. John Blackwell actually did an interview where he said that he looked up to me which was mind-blowing!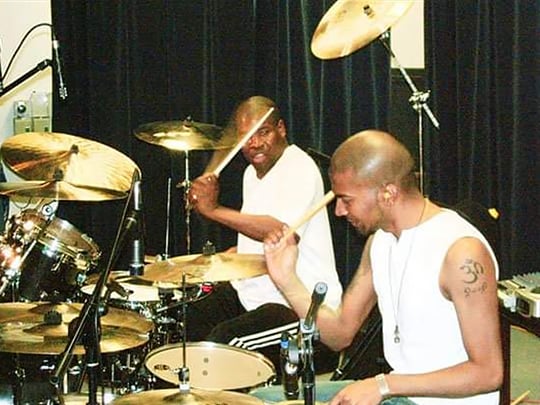 Magesh, pictured with John Blackwell on tour (drummer for Prince / Justin Timberlake)
About Angela:
Angela Chan is a British East Asian musician, composer and producer. Based in Leeds, she currently performs and releases music with post-punk outfit Hello Cosmos, and Mercury Prize-shortlisted band Lanterns on the Lake. Her main instrument is the viola, which is usually plugged into a pedalboard with an array of effects pedals. As a session musician, she has played live with artists including Placebo, Kyle Falconer and James providing backing vocals, strings and keys. Away from performing, Angela makes music, including commissions for theatre and film productions, as well as creating bespoke orchestrations and arrangements for clients.
About Magesh:
Magesh Magesh has performed with Rihanna, Lionel Richie, Ricky Martin, Chris Brown, Nelly Furtado, Kimbra, Daniel Merriweather and Vernon Reid (Living colour). He has appeared in music magazines Modern Drummer® (USA), Rhythm® (UK), Drum Connexions® (New Zealand) and Drumscene® (Australia). His instructional DVD 'Unique Beats' was distributed throughout the world by the prestigious company Hal Leonard®. Magesh has taught drums for over 20 years and is currently teaching online through Skype and Facebook messenger.