How Can I See a Record of My Lessons?
How Can I See a Record of My Lessons?
By this point, you will have already been able to:
Log in to your account on musictutors.co.uk
Navigate to Your Calendar
Log in to musictutors.co.uk
Click the 'Calendar' tab at the top of the screen
Here, you can see all the lessons you've scheduled. Click the left and right arrows at the top left to toggle through dates. You can also change the view by clicking 'Day', 'Month', or 'Week' in the top right corner. Confirmed lessons will show up as green, and unconfirmed lessons will be orange. Expired lessons (in the past) are blue. There are also symbols to denote these colours if you are unable to identify them - you'll see the key in the top left corner and the symbols show up when you click on the lesson.
Another way to view your lessons is to click 'View list' in the top right corner of your calendar view.
This will take you to a list of the lessons you have booked - past, present and future. You can toggle through dates in the same way with the top left arrows.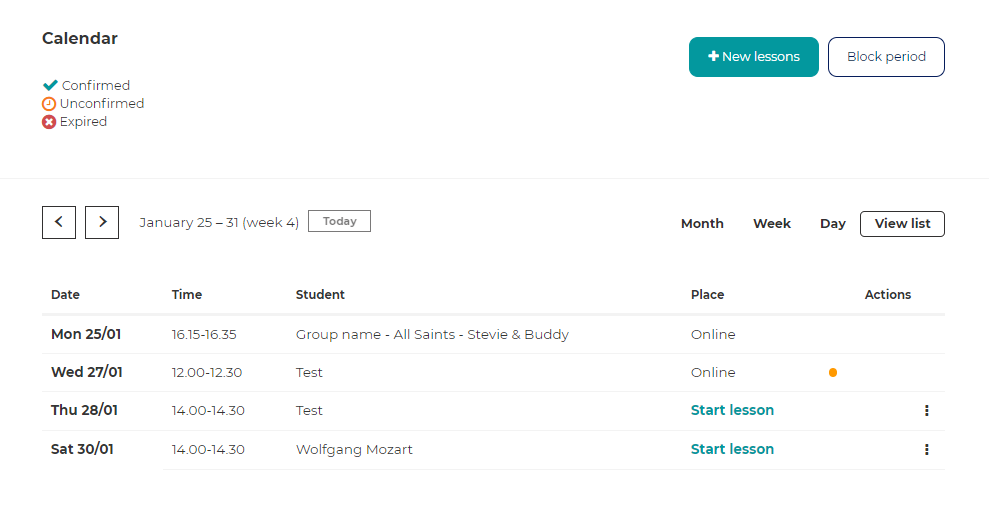 And it's as simple as that! Your calendar has all the information on the lessons you've booked in.
Need more help?
Please contact your music service / hub for more information.